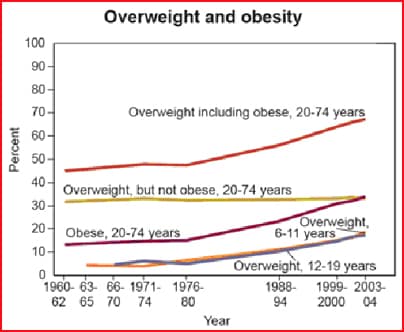 Childhood obesity is just adult obesity getting an early start, and we had better get this thing figured out before 100% of us are overweight or obese. To encourage us, Justin Stoneman recently published an essay in The Huffington Post titled "America: A Big, Fat, Stupid Nation." First of all, Stoneman is astonished that, with all our Yankee ingenuity, we can't seem to master the simple art of eating enough to stay healthy without getting fat. He writes,
Perhaps this crime is forgivable, purely symptomatic of the dietary 'misinformation' in circulation. However, the truly unforgivable stupidity has been in allowing this misinformation to propagate.
Stoneman, whose credits also include broadcaster, producer and composer, writes for newspapers in 30 different countries. In this piece, he goes on to accuse us of willful ignorance. He suggests we get a clue from the graph on this page, created by the National Health and Nutrition Examination Survey, which shows the obesity epidemic starting in 1977. What else happened then? The government told us to eat less saturated fat and more starch (carbohydrates). That sounds about right. A lot of us were raised on the idea that "you are what you eat" — and if you eat animal fat, you become a fat animal.
The governments of Canada, Britain and Australia adopted the same program, and, as a result, those countries too are now experiencing the consequences. We're all stuffing ourselves with "low-fat" or "fat-free" processed foods loaded with sugar, starch and chemicals, piling on the weight, and paradoxically suffering from malnutrition in the fat-soluble vitamins, A, D, E, and K.
Apparently, a lot of the problem is attributable to a misunderstanding of the famous Seven Countries Study conducted (or, some say, misconducted) by Ancel Keys. Stoneman even suggests something worse than faulty interpretation. It's possible that the meaning of the study has been knowingly perverted by the food industry to "falsely demonize" fats.
It now seems that the relationship between dietary fat intake and obesity has been misrepresented. This is way too complicated to go into here, but the case is explained by Jon Herring, quoting heart disease experts who call the cholesterol theory "one of the greatest and most harmful misconceptions in the history of medicine" and "the greatest scam in the history of medicine." Herring comes to the conclusion that:
[…] many of the dietary recommendations to reduce heart disease have actually been shown to CAUSE heart disease (not to mention cancer, diabetes and obesity).
If we don't want to be stupid, Stoneman says we should listen to Zoe Harcombe, who believes, among other things, that we probably don't eat enough fat. The key thing about fats, she says, is to not mix them with carbohydrates in the same meal, because then the body gets all confused about what it's supposed to use now as energy fuel, and what it's supposed to store up for later as body fat.
Here's something about fat that will knock your socks off:
Did you know that it has absolutely not been proven that eating saturated fat causes heart disease? Did you know that the Food Standards Agency admits the study to try to prove this has not even been done and likely never will be?
Here is another sample of Zoe Harcombe's iconoclastic assertions about obesity:
We have got the first principle of dieting wrong. Energy in does not equal energy out (put a gallon of petrol in a diesel car if you question this). …We have got the mathematical formula wrong. '1lb = 3500 calories' and 'To lose 1lb of fat you need to create a deficit of 3500 calories' has become folk law. Do you know where it comes from? Could you prove it? Don't worry, nor can any of our government departments or obesity organisations and yet they use it all the time.
Harcombe says, "I was addicted to food," and recognizes that food addiction is just as serious as any other kind of addiction. After 20 years of research on what it takes to stay addiction-free and slim, she rejects the notion that healthy weight can be achieved by "everything in moderation." Some foods must not be eaten at all, and others can be eaten in virtually unlimited quantities.
Harcombe's diet book was designed to put an end to food cravings and food addiction. It starts with a five-day detox period, and moves on to a plan that is truly sustainable. She insists on foods that are natural, rather than processed, and one of the main reasons is because every kind of processed food is laden with hidden sugar. Most astonishing of all, she even includes a way to eventually allow some favorite foods back into your life, under certain specific conditions, so they won't hurt you.
Your responses and feedback are welcome!
Source: "America: A Big, Fat, Stupid Nation," The Huffington Post, 09/24/10
Source: "The Greatest Scam in Medical History," Total Health Breakthroughs, 06/16/10
Source: "The Harcombe Diet," YouTube.com
Source: "Zoe Harcombe," ZoeHarcombe.com
Image by the National Health and Nutrition Examination Survey, used under Fair Use: Reporting.