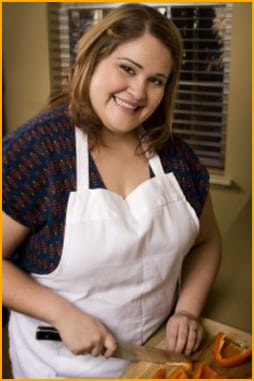 Sophia Ayala Gettys, who has appeared on the Food Network's Worst Cooks series, is a self-identified food addict, who talks about how food had brought her family together, and had always provided happiness and comfort on demand. It had also made Gettys an emotional overeater and an obese teenager. Only recently has she negotiated a "completely revamped relationship" with food, and managed to shed 50 pounds in a way that promises to be sustainable. Gettys says,
In the past, food has been like a backstabbing best friend.
Addicts of every variety have been known to think of their fix as a friend, sometimes their only friend. People who quit smoking cigarettes have compared the degree of bereavement to losing a family member. Beth Aldrich, an Integrative Health and Nutrition Counselor, speaks of growing up with food as "ally, enemy, nurturer, energizer, friend."
In Dr. Pretlow's presentation, "What's Really Causing the Childhood Obesity Epidemic? What Kids Say," Slide 24 quotes a 12-year-old who says, "Food listens to our problems. It's like a therapist."
A writer called Ann decided in November of 2009 to go from 212 pounds to 140, and is halfway there. Her blog brings us along on her journey, and she expresses the same idea in different words:
Food doesn't expect you to like it, nor does it ask you to do things. Food has no expectations or judgment. Food doesn't care if you are Catholic or Jewish. It's just there. It is in fact the ultimate companion. But like any companion, some are good and some are not. You have to choose who your friends are.
The extreme example of this kind of friend-food thinking is the facetious list of "Reasons Why Food is Better Than Sex," which everybody has probably received at least once via email.
In Overweight: What Kids Say, Dr. Pretlow identifies several kinds of vicious circles, and "food as friend" can easily become one of these exercises in futility. Once that food friendship gains momentum, an obese child can become more alone and isolated. There, of course, is the perfect excuse for an even closer relationship with food, even when it begins to show its true colors as an enemy that causes great discomfort and ill health. Dr. Pretlow recommends plenty of social activities for kids, so the bonding with food doesn't have the chance to get a foothold.
Among the many quotations from young people in Dr. Pretlow's book there is one from a 15-year-old who talks about going on a "food is my friend binge." Also, a 19-year old says, "I just hate food now. I mean, I love it, but I hate it too, you know?" And that's the very definition of a frenemy.
Your responses and feedback are welcome!
Source: "The Unlikely Marathon Momma and Bad Cook Reformed!," HybridMom.com, 04/28/10
Source: "Real Moms Love to Eat," LoseWeight.com, 04/23/10
Source: "What's Really Causing the Childhood Obesity Epidemic? What Kids Say," Weigh2Rock
Source: "Living an authentic life is the ultimate achievement for a human being," She Woke Up Fat, 04/28/10
Image of Sophia Ayala Gettys, used under Fair Use: Reporting.