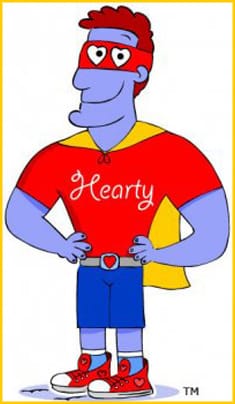 We previously wrote about how much we regret the tendency of corporations to use such attractive aesthetic trimmings as riotous colors, animated cartoons, and music to entice children into demanding junk food. Of course, that will never change. As long as there are products to sell, some hardworking agency will be writing jingles about those products.
Today, we're recognizing a pair of "white-hat" musicians who use their creative gifts for good causes, especially through their influence on large corporations. Ross Orenstein and Mona Amodeo, Ph.D., the founders of Music as Message, are enraptured with the ability of music to enhance memory. They cite the Alphabet Song as an archetypal example. Even as adults, we probably all still suffer the occasional lapse, and run through a bit of the song in our heads, to refresh the memory about which letter comes after which other letter.
Music as Message is in the business of designing community awareness campaigns and student education programs. Its website states:
We work with socially responsible organizations to deliver relevant messages directly to children in their community; thereby providing a way for corporations to make a difference.
Orenstein is an award-winning writer of children's songs, with a bewildering array of other talents besides. Amodeo is a consultant, researcher, speaker, and writer in the realm of organizational development and change. One of her current projects is a book about the social and environmental responsibilities of corporations. Together, they hope their artistic creations will teach, inspire and motivate kids, and make a positive difference in communities. This is partly accomplished when educators like themselves join forces with corporate entities.
For example, Music as Message works with members of the food industry that are trying to cooperate with the federal government's effort to end childhood obesity. Orenstein and Amodeo regard childhood obesity as an urgent and serious health threat, and are concerned about raising "the first generation of American children who will live sicker and die younger than their parents' generation."
The company also creates characters, such as Hearty, whose picture decorates the page you're looking at. His job is to teach kids about eating right, and he's all in favor of exercising to music. If you would care to hear snippets of three songs created for Hearty, Music as Message has audio clips on its website. Hearty has his own Facebook fan page, too.
Dr. Pretlow Gets Around
A friendly blog called The Lunch Tray recently gave a nod to Dr. Pretlow's book, Overweight: What Kids Say. Bettina Elias Siegel is a former lawyer with a lively interest in what our schools are serving to the children, and is in fact a member of the parent advisory committee for Houston ISD Food Services.
Also, Diets in Review took a very comprehensive look at Overweight: What Kids Say, considering it from several different angles. Its summation is very neat:
By incorporating substance abuse methods into the intervention strategies, making modifications to Michelle Obama's healthy eating campaign and reducing childhood depression, Dr. Pretlow believes that the alarming obesity statistics can be reversed and kids will regain control over their physical and emotional health.
Your responses and feedback are welcome!
Source: "A Note About Us," Music As Message
Image of Hearty, used under Fair Use: Reporting.