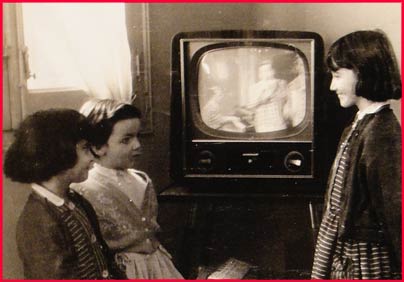 HealthDay reporter Steven Reinberg reminds us that one thing parents can do about childhood obesity is set boundaries for watching TV. He interviewed Susan A. Carlson, an epidemiologist at the National Center for Chronic Disease Prevention and Health Promotion, who says the first step is to establish rules agreed upon by parents and children.
Spending too much time with a video screen of any kind — whether passively watching broadcast television; or participating in computer games, or in social networking — is not healthy for kids. It is associated with not only obesity, but eating disorders, alcohol abuse, aggression, and poor academic performance.
Carlson and other researchers found that when parents take the trouble to set limits, kids are actually more inclined to be good sports about minimizing their screen time. Carlson also stresses the importance of being a good role model. Children under two years shouldn't be watching shouldn't be watching television at all, and, when they get a little older, they do tend to copy what they see their parents doing — which, hopefully, is not watching TV.
Reinberg also interviewed Dr. Tracie Miller, a professor of pediatrics at the University of Miami. Miller is convinced of the importance of setting a good example. She says,
It won't work if you treat a child in isolation… If the parent is watching 12 hours of TV a day and you are yelling at your kids to go out and play, while you're watching TV with a bag of chips in your face, it will never work.
It's not just the time spent in the sedentary pastime of TV-viewing that leads to problems, but the content of the shows and commercials. Lynn Neary of the National Public Radio recently interviewed two top experts, one of whom is Dr. Darcy Thompson, assistant professor of pediatrics at the John Hopkins University. Asked to summarize the connection between advertising and childhood obesity, Thompson said,
There is a strong link between the impact of advertising, particularly food and drink advertising, on children's food preferences, their food request, the request they make to their parents and the beliefs that they have regarding food. And all of these together have an influence on the prevalence of obesity in children today.
In the same interview with Neary, Margo Wootan, Director of Nutrition Policy at the Center for Science in the Public Interest, expresses her disappointment with the government's Let's Move! program for not concentrating on the advertising of junk food to kids, which not only fills up television, but the Internet and traditional print publications. Wootan says,
I don't think we can reduce childhood obesity without taking on this issue of junk food marketing full force… [W]e have to get rid of the junk food ads.
Your responses and feedback are welcome!
Source: "Stricter Rules Can Steer Kids Away From TV," Executive Health, 06/14/10
Source: "Experts Say Ads Make Kids Fat," NPR.org, 02/22/10
Image by Alvy, used under its Creative Commons license.