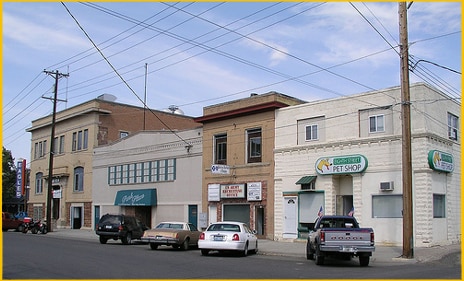 A recent New York Times report by Rachel Cromidas, on the rough Chicago neighborhood of Englewood, quotes a neighborhood resident who says, "Shopping at a corner store is too expensive, and they don't sell stuff every day, so you have to check the dates on the cans to make sure you get fresh items."
Did you catch that? It's the kind of remark that the description "unclear on the concept" was invented for. A neighborhood where shoppers rate food freshness according to the sell-by date on the can is a neighborhood in deep, deep trouble.
Another Chicago food desert, the Roseland neighborhood, was examined in depth by Jennifer Wehunt for Chicago Magazine almost a year ago, and the situation hasn't changed much since then.
A food desert is the kind of neighborhood where there are only convenience stores, fast-food outlets, or mom-and-pop stores that have none of the virtues Mom and Pop were brought up with. There are places in American cities where you can go for miles without finding anything for sale fresher than a potato chip. This is a contributing factor to the childhood obesity epidemic and the increasing incidence of diabetes and other diet-related medical conditions in children.
In these areas, thousands of parents face the problem of how to drag one or more kids along on the bus, probably transferring at least once, to get to a grocery store, and then struggle with the twice-as-hard problem of how to get the kids and the groceries back home again. Wehunt tells us where the "food desert" phrase comes from:
Mari Gallagher, of Mari Gallagher Research & Consulting Group and the National Center for Public Research, popularized the term in 2006, when she released a report on the phenomenon for LaSalle Bank.
Gallagher and others formed the Chicago Grocer Expo Project, and had put a lot of work into identifying six prime sites where a vastly underserved population would benefit greatly from the introduction of the major grocery stores. Unfortunately, the economy tanked, and nobody wants to build any new stores in Chicago. In Roseland, the people are still going outside their neighborhood to spend about $90 million a year on food.
Inner cities are not the only places where food deserts are found. Reports come in from Kansas, Mississippi, and other states where rural areas are bereft of real food, and people have to drive so far to get to a grocery store that the cost of the gas becomes a major item in their food budget.
Here is an important question that needs to be looked at: How useful is it to teach kids about nutrition if they don't have a chance of laying hands on a fresh vegetable? Dr. Pretlow says,
We need a dose of truth. Isn't the major difference between alcohol, tobacco, drugs of abuse, and highly pleasurable food simply that the latter is accessible by children?
This is of course exactly the kind of so-called food that many people become addicted to, just like cigarettes, booze, and street drugs, and there is a great similarity between alcohol, street drugs, tobacco, and highly pleasurable, addictive food-like substances. In many poverty-stricken areas of the nation they are practically the only things a person can buy at all.
Your responses and feedback are welcome!
Source: "A Fresh Oasis Thrives in a Chicago Food Desert," The New York Times, 05/28/10
Source: "The Food Desert," ChicagoMag.com, 07/09
Image by dave_mcmt, used under its Creative Commons license.