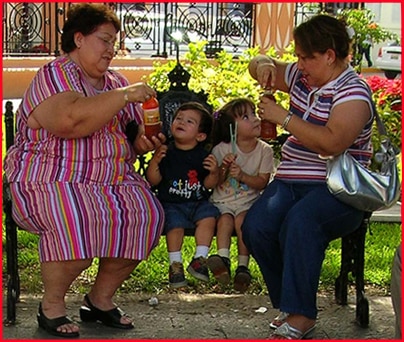 Happy Mother's Day! If you're a Mom, we hope your special holiday is a terrific one this year and every year! We know what you want more than anything — for your kids to be healthy and happy. So here's our Mother's Day gift to you: the knowledge that it's within your power to help your overweight child.
Mary Jean Porter, who writes for the Pueblo Chieftain on matters both political and cultural, recently interviewed Miranda Stovall, who works with overweight teens as coordinator of a program called Teen Lifestyle Balance, sponsored by the Health Department in Pueblo, Colorado. Stovall shared what she has repeatedly observed in her dealings with teens troubled by obesity:
Most of the time the whole family has a weight issue. Most of the time, the parents I've seen come to class with their kids are overweight. That's why I really encourage the parents to come, too.
The program features education about nutrition and healthy choices, and half of each class is spent in exercise. Stovall emphasizes that kids need encouragement, and the opportunity to choose what they eat wisely, but most of all they need a good example set before them. She is convinced that if only parents would become more involved with the program and apply its lessons to themselves, there would in turn be no limit to what the kids could accomplish.
Since parents, in many cases, hold the purse strings, it does seem like keeping control over their kids' diets should be easy — in theory, that is. However, realizing — as fully as many parents do — that control just isn't that easy to wield, the program also provides a guide to fast foods, so at least they'll know what they're eating.
When collecting information for his book, Overweight: What Kids Say, Dr. Pretlow had discovered that many kids are already fed up with information about nutrition and healthy choices. They don't need any more facts about calories or vitamins. What they need are ways to find it within themselves to resist food cravings, and to bring good feelings into their lives that will last longer than the false promises held out by junk food.
Here's one thing we know for sure: More often than not, kids will imitate their parents and follow the patterns they learn at home. On his Weigh2Rock website for kids, Dr. Pretlow is always giving them the opportunity to answer various questions. One day, he posed this question: "What do you think would reverse the growing overweight problem in children and teens?" Guess which answer 80 percent of the respondents chose? An overwhelming majority of those kids checked, "Parents being role models." In fact, the website's animated banner says it all: we see a parent and a child, both chubby, located on the left-hand side of the page. As they move to the other side, both of them lose weight. 'Nuff said!
Your responses and feedback are welcome!
Source: "Parental support key to teens' changes," Pueblo Chieftain, 04/28/10
Source: "Overweight: What Kids Say," Amazon.com
Image by malias, used under its Creative Commons license.