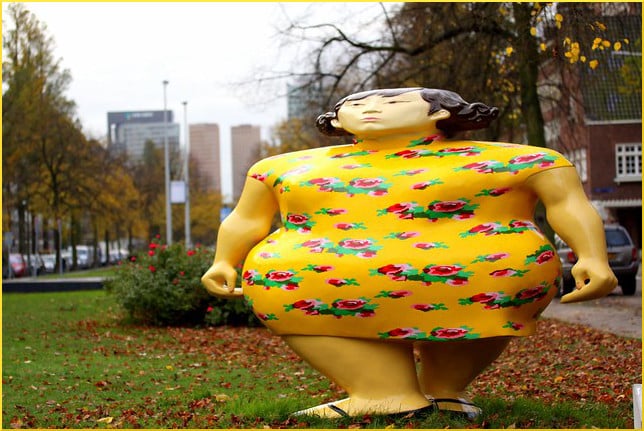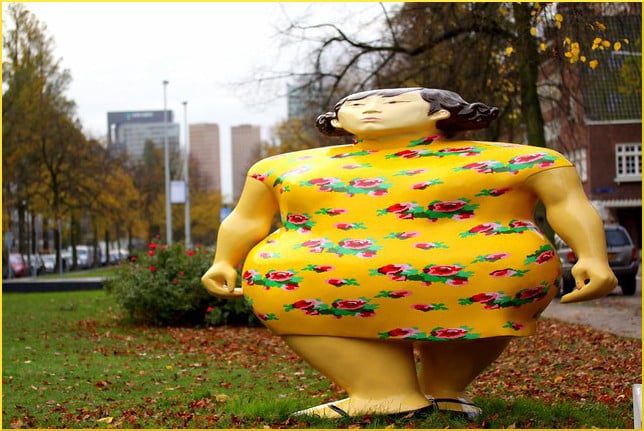 In August of 2008, Georgia Davis was recognized by the media as "Britain's Fattest Teen." Clinically obese since age five, by the time she was seven she weighed over 150 pounds. By age 15, her weight was up to 462 pounds. She went to the USA for a seven-month stay at a residential facility described as a boot camp, and got down to 256.
But back at home, i.e. the same environment that had made her morbidly obese, Georgia was upset and depressed by her stepfather's terminal illness, and she gained again, achieving 560 pounds by age 17. By 2012 she was unable to walk. It took 50 rescue workers, including firefighters and engineers, to get her out of the house and transported to the hospital.
This rescue was performed at a cost of more than £100,000 (around $120,000 USD) and was followed by a four-month hospital stay. Dangerously dehydrated, Georgia suffered from cellulitis and multiple organ failure.
No official consequences
Unlike the subjects of recent Childhood Obesity News posts, Georgia's mother does not seem to have at any point been threatened by the government with criminal charges or loss of custody. It was proposed that the young woman should return to the North Carolina fat camp, presumably at additional public expense. She got as far as the airport, and then reportedly panicked. Remaining in Wales, she moved to an apartment with a girlfriend.
But in the spring of 2015, with the patient weighing over 700 pounds, it was deja vu all over again when, according to journalists Amanda Williams and Anthony Joseph:
Two cranes, seven police cars, two fire engines and 11 medics had to lift her from her home for a seven-hour operation after she picked up a severe infection.

Rescue efforts included the use of a mobile crane, but when the first crane proved not strong enough to lift the patient, a larger crane had to be summoned, closing local roads. Miss Davis was finally removed and was taken in a reinforced ambulance to Royal Glamorgan Hospital where she spent the next 203 days and underwent the lifesaving treatment which has reduced her weight by a third.
After that second rescue, which led to a six-month hospitalization, the authorities were not anxious to see a repetition of the episode that had tied up the services of 30 people and involved closing the surrounding roads. In early 2016 Georgia was 22 and still weighed in at north of 700 pounds when she changed residences again to a specially built house.
For the Mirror, Siobhan McFadyen wrote,
She is set to move into her £150,000 flat which has a double front door plus widened rooms and corridors as well as an enlarged kitchen-diner that will allow her to use a wheelchair and has enough space for a turning circle.
Tam Fry, spokesperson for Britain's National Obesity Forum, is fed up with the ghoulish interest taken by the press and the public in morbidly obese people, which he feels is "fatsploitation" — an unhealthy mixture of voyeurism and Schadenfreude. Way back in 2009, when Georgia Davis returned to Wales after more than half a year in the American residential "boot camp" program, Fry wrote,
In Georgia's case what wasn't reported is how she'll maintain that level of weight loss when she comes off the programme, as critics say boot camps produce short-term success but long-term failure. However policy makers should look at the story and ensure that not only are there more weight loss camps in the UK, but that there is a tracking system implemented that ensures people on them get adequate aftercare.
Your responses and feedback are welcome!
Source: "Britain's fattest teen Georgia Davis: I've lost 18 stone," TheSun.co.uk, 04/05/16
Source: "FIFTY STONE woman dubbed the 'Takeaway Princess' gets a specially-designed council flat that's just over half a mile from TWENTY fast food shops," DailyMail.co.uk, 02/25/16
Source: "Britain's fattest woman Georgia Davis using gym, has 'skinny' Sunday roasts delivered and does art to lose weight," Mirror.co.uk, 02/26/16
Source: "Is 'Fatsploitation' fuelling the obesity crisis?," Independent.co.uk, 07/20/09
Photo credit: franzconde on Visualhunt/CC BY