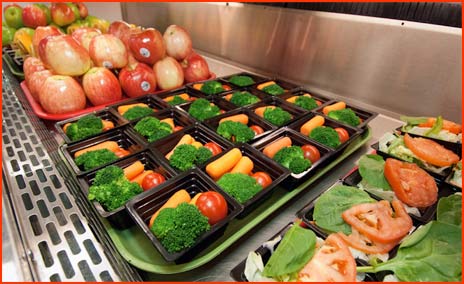 Everybody talks about the weather, but nobody does anything about it.
That old saying is usually attributed to Mark Twain, but a zealous researcher finds that the man who said it was Charles Dudley Warner. The point is, it often seems like "Everybody writes about childhood obesity, but nobody does anything about it."
As it turns out, plenty of people are doing something about childhood obesity. And, of course, writing about it is also doing something. Today, meet a few more of the folks who are doing something by writing, such as a nine-year-old Scottish schoolgirl Martha Payne. Cord Jefferson, senior editor at GOOD, says:
Payne was fed up with meals that at best, weren't nutritious and, at worst, were peppered with stray hairs that weren't hers. At the beginning of May, she started NeverSeconds, a food blog dedicated to rating the health and value of her school lunches every weekday. Though it hasn't even been around for a full month, NeverSeconds has already garnered a global readership..
Change has already reached her own elementary school, where a child can now eat as much salad, fruit, and bread as desired. Less nutritious items are on offer, but the feeling is, this plan might inspire some children to leave the high-calorie stuff alone and fill up on fresh fruits and veggies. It will be interesting to see where that goes.
School lunch champion Jamie Oliver is a Martha Payne fan. Grist List editor Jess Zimmerman senses that one of the problems at Martha's school might be too much hurry in the cafeteria line, which doesn't allow for considered reflection on the alternatives. Zimmerman says:
You can see vegetables getting more prominent on Martha's plate over the course of the blog… Schools do a lot of ugly calculations, weighing kids' health against cost and expediency. But apparently, making that public is sometimes all it takes to force a change.
Payne's latest blog entry notes a change that the school made because of reluctance to encourage waste. She says:
You can't see fruit in the picture because you get it at the end only if you've eaten the rest of your food now.
Hmmmm. If Zimmerman's impression of kids being hurried through the lunch line is correct, can there possibly be time for a child to go back a second time for the fruit?
The idea of a blog that reviews school lunches is not original, of course, nor is the inclusion of photographic evidence of each day's lunch. The innovator in that field is Mrs. Q. But Martha Payne is a kid, which makes all the difference, and her constituency is kids. They are not only reading Payne's blog, they are outing their own schools as unsatisfactory providers of healthful lunches, or praising them as excellent.
They send in pictures and descriptions of their lunches, with such interesting variations as a strict kosher meal served for $5 per day Jewish school in Altanta, GA. In Japan, kids bring their own chopsticks every day!
Your responses and feedback are welcome!
Source: "Everybody Talks About the Weather, But Nobody Does Anything About It," Quote Investigator, 04/23/10
Source: "How a 9-Year-Old Girl's Food Blog Forced Healthier Lunch Options," GOOD, 05/30/12
Source: "Nine-year-old's lunch blog shames school into making changes," Grist, 05/18/12
Image by USDAGov (U.S. Department of Agriculture), used under its Creative Commons license.