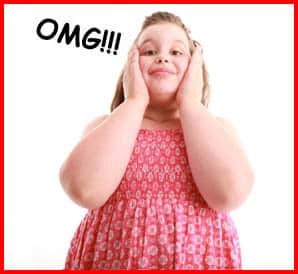 (Part Two of a Two-Part Post — View Part One)
The first part of this post had to do with the fact that the "healthy eating and exercise" approach for ending the childhood obesity epidemic just isn't working. Compelling new evidence now points to actual addiction to highly-pleasurable comfort foods, like junk food and fast food, as the predominent cause of childhood obesity. Based on this knowledge, if we are to turn the tide of this horrific epidemic, a major paradigm shift is needed. We must attack childhood obesity in the same manner as we do other addictions. A 13-year-old girl (5', 128 lb.) responded to a poll asking if junk food access by children should be restricted:
OMG THIS WOULD HELP SO MUCH!! … i find myself at the deli buying candy behind my moms back ugh.
Proposed Action Items
Some of the following action items may be considered too radical. Even so, their implementation might render a reality First Lady Michelle Obama's dream of eradicating the childhood obesity epidemic within a generation:
Substance dependence methods should be incorporated into overweight intervention programs for youth. For example, obese kids will need to go through a withdrawal process to get off highly pleasurable foods, as this 15-year-old girl (5'10", 209 lb.) describes:
if u can have enough self control and stay off the sugar for two weeks you stop craving sugar completely..
Current childhood obesity initiatives and interventions should all be examined through a "psychological food dependence – addiction lens." Do such programs help psychological food dependence – addiction? If not, kids may become discouraged when the programs fail to help them lose weight or maintain their weight. Discouraged kids may comfort-eat more and seek help less, a vicious cycle. Nevertheless, parts of current programs may serendipitously help food addiction. For example, fun physical activities relieve stress and depression, the underlying causes of food addiction, although striving to eat 5 servings of fruits and vegetables or walk 10,000 steps a day may not.
Campaigns and interventions that promote healthy eating and exercise may thus be counterproductive. Those programs should instead educate kids as to why they overeat; how to reduce their stress, loneliness, and depression; and how to cope with life without turning to food.
Obese kids need major support to break their addiction to highly pleasurable foods and avoid relapse. Interventions should include such support via mentors and peers. Counseling should be provided for kids in need of it.
Factors that produce stress, loneliness, and depression in kids should be addressed, as such are the underlying cause of comfort and stress eating and resulting food addiction. Fun activities with other kids should be provided after school and on weekends in order to combat social isolation, a main factor. The inability of many heavy kids to participate in sports should be accommodated with activities such as hobbies, non-strenuous games, learning to play musical instruments, etc.
Insurance should cover treatment of morbidly obese kids in residential centers, rather than paying for bariatric surgery. This should include coverage for follow-up after discharge and "halfway houses," to gradually reintroduce the kids to the temptations of comforting, highly pleasurable foods in the real world and to develop coping skills that don't involve eating. Follow-up should continue indefinitely once the kids return to their home environment.
Junk food and fast food should be banned in schools, as well as such outlets in the vicinity of schools.
Foods that kids say they have the most problem resisting should be taxed, in the same manner that taxation of tobacco products has shown success in decreasing tobacco use.
Ideally, sale of junk food (including sugar-sweetened beverages) and fast food to minors should be restricted, similar to restrictions with tobacco.
Childhood obesity campaigns should promote overeating as "not cool" and junk food as "yuck!" Celebrities such as rock stars and athletes could help tremendously.
Parents should be educated not to use food to soothe, comfort, or reward their children or as a way to buy love. Parents should likewise be made aware of the signs of comfort eating and food addiction.
New terms should be coined to describe foods or food-like substances which may be addictive. Terms such as "addictafoods" or an acronym like "PDFs" (psychological dependence foods) might be appropriate.
An indicator of food addiction potential should be required on food labels, for example a scale of 1 to 3. The most addictive foods (level 3) should also have a warning label similar to cigarettes: "Warning: This food may be addictive and cause obesity."
Federal corn subsidies, which lower the price of high-fructose corn syrup, should be ceased. High-fructose corn syrup is used to sweeten a multitude of food products, rendering them more pleasurable, comforting, and addictive.
The Code of Food and Beverage Advertising to Children (Code PABI) in Mexico should be emulated in the U.S. and other countries. This code, which currently is self-policed, will soon become government-enforced.
Ideally, all food advertising directed at children should be banned. Food advertising directed at children is, in truth, enticement rather than advertising. Only highly pleasurable foods are advertised, which may get children hooked. Food companies are no dopes: an addicted kid is a customer for life. Could that be why apples are not advertised?
Overweight and obese kids are hapless victims of stress, loneliness, and depression in a readily available, addicting, comfort food environment. Food addiction and resulting weight gain devastates their lives. These kids are in real pain. They desperately need for the medical profession, parents, and policy makers to do something about this deplorable problem. If one third of our kids were suffering from asthma due to air pollution, we'd take draconian measures. Why is childhood obesity different?
Your responses and feedback are welcome!
(View Part One of This Post)
Image purchased from iStockPhoto.