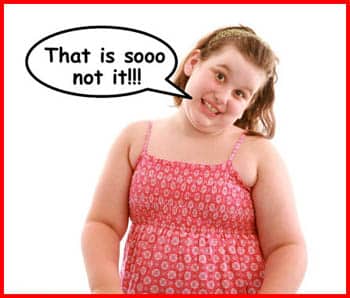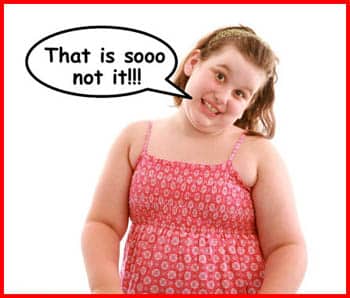 I recently witnessed two teenagers in a group, one advising the other how to lose weight. The first teen glibly proclaimed,
All you gotta do is eat healthy and exercise!
Whereupon, the second teen indignantly retorted,
That is sooo not it!!! I know what to eat, I just can't resist bad food!! And exercise is, like, impossible!!! I get so outta breath and my feet and knees hurt!
At 13, she weighed in at 5'5", 257 lb.
In an online poll, most overweight kids report that they're overdosed on healthy eating information. They're deluged with it in school and it really doesn't seem to help them. As one 13-year-old girl (5'4", 240 lbs) noted:
I took a poll at my school. 95% knew a lot about eating healthy but 99% said that they really didn't do any of the stuff we learn about.
This information comes from an interactive website for overweight kids called Weigh2Rock, moderated by medical professionals. It has tapped into a vast knowledge base: nearly 30,000 unique overweight teens and preteens have posted more than 135,000 messages on this site over the past 11 years.
And, confirming what these kids say about exercise, a new report from the EarlyBird Diabetes Study suggests that physical activity has little, if any, role to play in the obesity epidemic among children. Plus, a recent review study confirms that healthy eating and exercise may not be the answer.
Yet, healthy eating and physical activity comprise the very fabric of current childhood obesity interventions and initiatives, such as First Lady Michelle Obama's laudable "Let's Move" campaign. A 14-year-old girl (5'4, 230+ lb.) commented about Ms. Obama's campaign in a website poll:
There are actually alot of activities in my school, like intramural sports and i was in them, didn't help a smidge. And there ARE healthy affordable foods where i live, it doesn't mean that we buy them. I don't think she has thought about the fact that there are multiple mcdonalds in every town. For years people have had programs and activities to help obese people and it hasn't really helped. There are many holes in this plan.
So… if the healthy eating and physical activity approach is not working for childhood obesity, what do we do now?
About a third of the thousands of overweight kids, who've shared their struggles on the Weigh2Rock website, explicitly say that they turn to food to ease sadness, stress, anger, loneliness, fatigue, and boredom, as well as the pain of being obese itself. For most, this "comfort eating" appears to be unconscious, mindless. The disaster is that they become hooked on this behavior and unable to stop, even when distressingly overweight or obese because of it. Food companies understand this and market with slogans like "Comfort in Every Bar" (Milky Way candy). These kids say they hate being fat, yet they struggle to resist incessant thoughts and urges to eat food "that tastes good," e.g., junk food and fast food, knowing full well that eating those foods will result in additional weight gain and further damage to their lives. Many say that their eating is "out of control." A post from a 16-year-old boy (5'6″, 230 lb.) exemplifies this struggle:
does anybody have any info on how to resis the urge 2 eat, knowing that later on you'll regret…i need help bad!
This compelling evidence points to a serious dependence on highly pleasurable comfort foods (i.e., addiction) as a major component of the childhood obesity epidemic, not unlike addictions to tobacco, alcohol, and even drugs. These research findings are summarized in an article in the peer-reviewed journal, Eating Disorders.
What these kids say is confirmed by a brain scan study at Yale University published this month, which revealed that that the brains of adolescent compulsive eaters "light up" when shown the foods they crave, like milkshakes and donuts, the same way the brains of drug addicts "light up" when shown the drugs they are addicted to. Many kids — when stressed, depressed, or bored -– appear to use highly pleasurable food as a "drug of comfort," which is more acceptable than tobacco, alcohol, or drugs of abuse, but nearly as addicting. Children have difficulty obtaining tobacco, alcohol, or drugs but have ready access to highly pleasurable foods.
Kids even describe their addiction to comfort foods, for example a 15-year-old girl (5'1", 335 lb.):
HOW can I stop BEing ADDICTed to FOOD???? In SCHOOL I can't even LISTEN because of how UNCOMFORTable it is to be SO HEAVY but ALL I want is to go HOME and have ICEcream or COOKies to feel BETTER
Medical science is resisting the notion of food as an addictive substance. Why? One reason may be that much of obesity scientific research is funded by the food industry, which is deathly afraid that their products might be labeled as addictive substances. This likely would open up a liability nightmare, as well as extensive federal regulation of food. A second reason is that obesity researchers have substantial vested interests in areas such as nutrition, metabolism, and exercise. Plus, physicians generally are uncomfortable with a psychological approach to a physical problem. And, for nutritionists and dietitians, the term "food addiction" is inherently a non sequitur. One dietitian, Christy Harrison, a writer with the Slate Group, rejected this post as a "counterintuitive position."
Your responses and feedback are welcome!
Read Part 2: "Food Addiction and Childhood Obesity: Now What Do We Do?"
Image purchased from iStockPhoto.