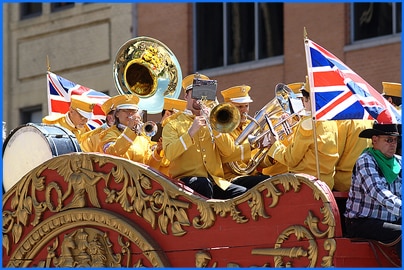 Last month, September 2010, was Childhood Obesity Awareness Month, and there are a few details we haven't discussed yet. For instance, "Why is McDonald's listed as a resource for Childhood Obesity Awareness Month?" This question is posed by Michele Simon, a public health specialist who has taught health policy at UCLA. As a lawyer, she thinks up strategies to thwart corporate practices that affect the health of their customers. Simon has strong opinions:
I am not a fan of any sort of 'awareness' month as I find the concept trivializes important health issues. Are we only supposed to care about heart disease, diabetes, etc., during that one month of the year?
If you admire the ability to state a position, sum up an issue, apply common sense, or spot an angle nobody else has thought of, then Michele Simon is one of your favorite writers.
Simon is not alone in suspecting that Awareness Months, whatever good they accomplish, also provide far too tempting a platform for the publicity-oriented politicians. Which politician among them is not anxious to get as much press as possible? It would be hard for anybody in the political spectrum to deny that much. However, how much impact does hot air have on childhood obesity?
Is Congressperson X or Corporation Y supporting an issue, or jumping on the bandwagon? It's all a matter of perspective. Another thing about Awareness Months: the ratio of "education" to actual action is not very encouraging. Sometimes it seems that designating an Awareness Month is pretty much the only action taken.
And, face it, there just aren't that many months to go around. There are hundreds, thousands of issues, but the months are stuck at 12. So each one of them ends up being Everything But the Kitchen Sink Awareness Month.
Here's a million-dollars idea for free: groups and causes could pick an astrological sign. It would be like opening up a new domain on the World Wide Web. Childhood obesity awareness could claim the time period ruled by the sign of Libra. Yes, the scales are rather threatening, but it's the concept of balance we're interested in. A person's life will probably be optimized if the person is neither too skinny nor too fat. Balance is good.
Simon was not impressed by President Obama's proclamation announcing Childhood Obesity Awareness Month, which she describes as "milk-toast when it comes to policy change." She goes on to say,
All of those ideas have been on the table for years, but little progress has been made. And he's inviting Americans to find resources to help kids eat better? Not exactly cutting-edge. Finally, nothing even mentioning the role the food industry plays in undermining parents, no matter how much the First Lady tries to 'empower' them with her Let's Move campaign.
Furthermore, the government's official website acknowledges McDonald's as a supporter, and provides a link to its learn-about-nutrition fun-and-games website for kids, which Simon describes in unflattering terms. She is also highly suspicious of the corporation's motives and intentions. Simon says,
I tried emailing the American College of Sports Medicine to find out how much money McDonald's paid for the privilege, but have not yet heard back.
No matter how much the company threw into the anti-obesity coffers, Simon figures it gets way more than that value in free publicity. She points out how other members of the just-barely-food industry play the game, publicly applauding Childhood Obesity Awareness Month. But this is the sound of one hand clapping, because their other hand, full of lobbyist payola, is stretched out toward Washington, D.C. Simon also spotlights the absurdity of the American Beverage Association's cheerleading, which urges us to:
Get informed. Get connected. Get involved.
What a joke. If we really did get informed, connected, and involved, the ABA's would be among the first heads to roll. Simon concludes with a rather cynical observation:
And then, on October 1, everyone can go back to whatever they were doing before, having observed and been made aware. Problem solved.
Not around here! Dr. Pretlow's Weigh2Rock website is on the case during all 12 months (and every horoscope house). If you haven't fully absorbed the variety and benefits of this great resource, now would be a good time. There are different areas for pre-teens, teens, and those over 18, and even a "Latina" section, and a section for parents, who need advice and encouragement just as much as the kids do.
Kids can have as much anonymity as they prefer, or they can send in pictures for an illustrated "My Story" page, like "Christoper's Big Gut." The young boy in the photographs is shaped like either a pregnant woman or a beer-guzzling middle-aged man, and he's not happy about it. He wants help, and he's come to the right place.
Your responses and feedback are welcome!
Source: "Why is McDonald's listed a resource for Childhood Obesity Awareness Month?," Appetite for Profit, 09/05/10
Source: "Christopher's Big Gut ," Weigh2Rock.com
Image by Beige Alert (Michael Pereckas), used under its Creative Commons license.