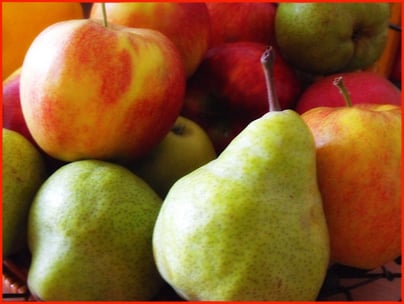 We've talked before about various possible solutions to the childhood obesity riddle, including the simple ones. Not that a "solution" means that someone will only need to do that one thing, and immediately lose 100 pounds. But simple solutions are good because they give a person a foothold, a starting place. A journey of a thousand miles begins with a single step, and, depending on the individual, who knows what particular step might provide the perfect beginning?
Natasha Singer has been The New York Times reporter for more than four years, covering the health care and pharmaceutical industries, and the "beauty industrial complex." Among other interesting posts, Singer formerly occupied the job of editor-at-large for the Russian version of Vogue magazine. Recently, she wrote about the small but growing trend of food as prescription.
Back in the 80s, the state of Massachusetts started experimenting with a coupon system for a very limited population of at-risk children and expectant mothers. Now, the idea is being applied to the problem of childhood obesity. A few doctors send patients to local farmers' markets, with coupons good for a dollar's worth of "prescription produce" per day, per family member. It sounds paltry, but you can actually get some decent vegetables and fruit for very little money. A Dorchester family physician, Dr. Suzi Tepperberg, says:
A lot of these kids have a very limited range of fruits and vegetables that are acceptable and familiar to them. Potentially, they will try more. The goal is to get them to increase their consumption of fruit and vegetables by one serving a day.
A modest and manageable goal, certainly. For the specific purpose of studying the effect of this program on childhood obesity, the pilot project will include as many as 50 families, divided between three participating health centers. Of course, researchers will be keeping a close eye on the results, recording the children's weight and body mass index, and whether their eating habits actually change.
The farmers need a boost, too. And, by now, everybody is familiar with the "Eat Local" idea, which is said to be less stressful for the environment, overall. This is preventive health at its finest. Singer notes that 36 states now have similar programs, and quotes the Boston mayor Thomas M. Menino, who was shocked by the sight of kids at the bus stop, breakfasting on chips and soda pop. Singer also interviews Leslie-Ann Ogiste, whose child is nine years old. Listen up, moms:
Ms. Ogiste said she had minced some vegetables and used them in soup, pasta sauce and rice dishes — the better to disguise the new good-for-you foods that she served her son.
Her son, incidentally, told the reporter the food was fine, as far as he was concerned. Ogiste says they have also cut down their junk food consumption, and have been substituting water for soda or fruit juice more often. As a result, they have lost a little weight.
Of course, a produce prescription program is only a very small first step, and it's only seasonal because farmers' markets are not in business all year round. Given a long winter with no coupon-and-market incentives, it's likely that some families will lapse into the old, bad habits. Activists are working to extend the program year-round, in partnership with various grocery stores.
In Overweight: What Kids Say, Dr. Pretlow passes on some other suggestions from successful kids who share their weight loss techniques. Ice water is good — and maybe a few drops of lemon or lime it would be even more refreshing. To help fight cravings for junk food, they also recommend baby carrots, sweet apples, or frozen grapes.
Your responses and feedback are welcome!
Source: "Eat an Apple (Doctor's Orders)," The New York Times, 08/12/10
Source: "Overweight: What Kids Say," Amazon.com
Image by dimnikolov, used under its Creative Commons license.