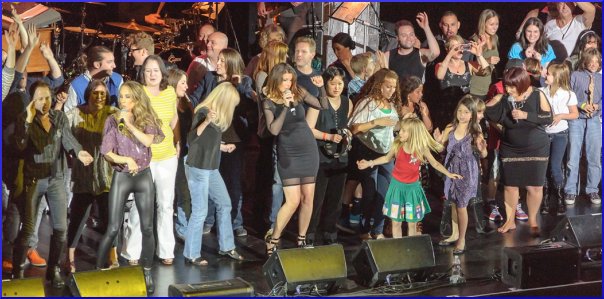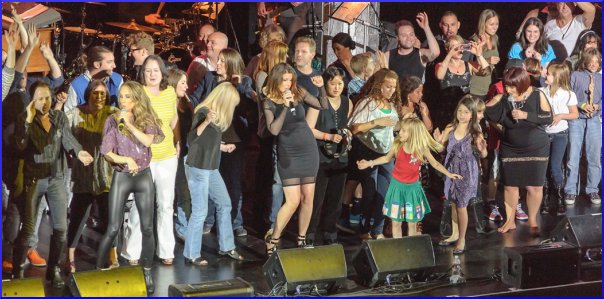 In the photo above, the Wilson Phillips trio are onstage with audience members during a May 2013 concert. Carnie Wilson, subject of yesterday's post, is the barefoot woman on the far right. Ms. Wilson is well-known not only because of her singing ability and many television appearances, but also because of her decades-long struggle with excess weight. She is representative of the minutely scrutinized celebrity, a textbook example of a public person whose every ounce of weight gain or loss is closely monitored by the press and her fans.
As we know, Carnie Wilson made history in 1999 by undergoing a gastric bypass and sharing this surgical procedure with the world via the Internet. She lost 150 pounds but over the years gained a lot of the weight back. In January of last year, she gave an interview to Fox News in which she told Nicki Gostin that in the previous year she just "fell off the wagon" — which in Wilson's case meant relapsing into poor eating habits and physical inactivity. Fox News quoted her as saying:
I never hide, when I walk down the street, someone's going to take my picture, that's what I look like…. I'm definitely up in weight. I'm looking forward to getting an exercise routine again. It's like a daily decision. Am I going to eat healthy today or am I going to make some sh**ty decisions?
Only a couple of weeks after that interview was published, Wilson had a different kind of bariatric surgery, this time a lap-band, as announced by People magazine. A year later, the same publication checked back and found that, although Wilson had lost 40 pounds since this second surgery, she seemed to be moving into the fat acceptance camp. "I'm not striving for perfection," she said.
Around the same time, Wilson made a celebrity appearance at the opening of a Lane Bryant store in New York City. This company has specialized in plus-size clothing for many years and is prepared to serve the needs of an increasingly obese population. The singer made a point of mentioning that she would be wearing a Lane Bryant creation for her upcoming Miami concert. At the event she also told an interviewer:
I'm a working mom of average size and I feel great about it now. I have really come into a new place in my life. I'm really embracing who I am, just accepting it and loving it and not feeling ashamed to be standing next to [bandmates] Wendy and [Chynna]. Really proud of what I stand for, which is acceptance and self-love and the love of fashion. Why should women that have curves be denied that?
In the spirit of The Secret, Wilson sent forth into the universe the suggestion that Lane Bryant start a clothing line called the Carnie Collection, and that she become a regular on the TV show "The Talk" where she could model these creations on a daily basis. Let's hope that comes true for her.
Within a couple of weeks, the performer revealed to her Twitter followers that she was suffering a bout of Bell's palsy, a partial facial paralysis that can sometimes be triggered by emotional turmoil and stress. Then a celebrity-gossip website reported that the Wilson/Bonfiglio household was preparing for yet another move. There was a garage sale, and one of the items was a treadmill, which could be interpreted as a sign that Wilson is indeed totally comfortable with her plus-size frame.
Your responses and feedback are welcome!

Source: "QA: Carnie Wilson Says Her Weight Is Back Up, Sees Herself in Her Daughter," FoxNews.com, 01/01/12
Source: "Carnie Wilson Is 'Making More Progress' with Her Weight Loss," People.com, 03/03/13
Source: "Carnie Wilson and Jay Manuel attend LANE BRYANT Flagship Store Opening," JonesMagazine.com, 03/01/13
Image by InSapphoWeTrust